UNCOPPEN SAW formed 2019 in Basel to merge sound creation with elements of performance,
visual arts, multi-lingual text to explore sound art as transgressing and unifying media between matter and spirit, subject and object.
By this trans-media approach the four artists from Mauritius, France and Switzerland open a creolised trans-cultural space of emergence in the "Here and Now", between digital and analog, the concrete and the abstract, intuition and calculus, interrogating notions and perceptions of time, matter, aesthetics and moral.
The performance and text based one-time comprovisations relate with precision to the immediacy of situation and relation to the listener, opposing usual hierarchies of authority.
"Anarchy is the keyword of humanity, l'Anarchie est le mot clé de l'Humanité", is the statement of track "Kuro".
As a special offer for the new introduction of the band in the artist list of Iapetus Media, the album "Kuro" is available for free (name-your-price) for a limited time.
However, we would appreciate a donation of about 2 Euro for the download.
Thank you very much!
UNCOPPEN SAW & the Iapetus Team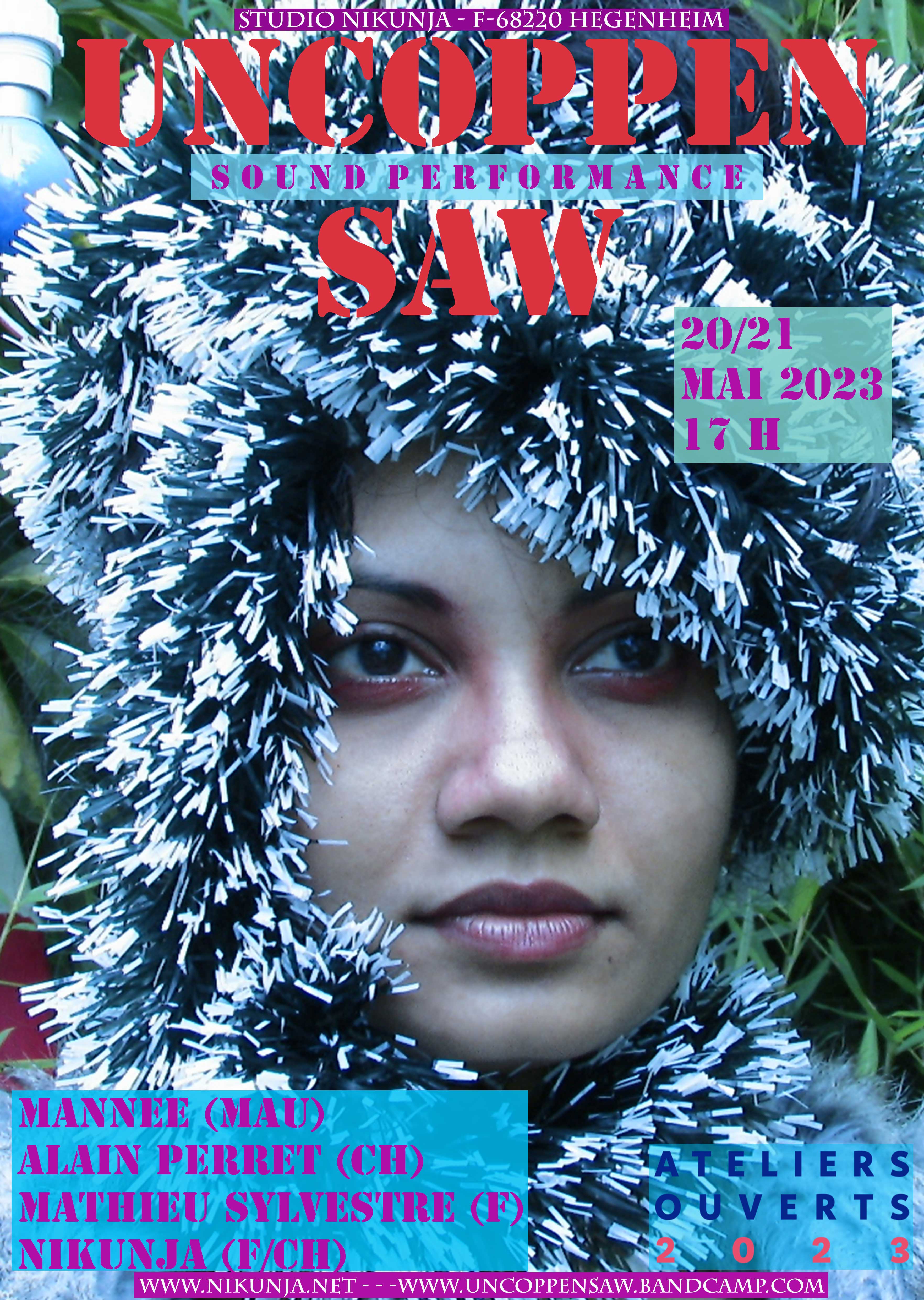 31.- 4.9.2022 "ART AS CATALYST FOR CHANGE" , ITAC6, SEANSE ART CENTER, OSLO, NORWAY
14-19.6.2022 ART BASEL OFF, OLD UNIVERSITY BASEL
14-15.+21-22.5.2022 OPEN STUDIO/ATELIER OUVERT GRAND EST

"TIMECRYSTAL", STATIC ELECTRIC FIELD SEF TRANSMEDIA PERFORMANCE INSTALLATION AND LIVE SOUND PERFORMANCE "UNCOPPEN SAW" WITH MANNEE (MAU), MATHIEU SYLVESTRE (F) AND ALAIN PERRET (CH)(VIDEOLINK ON HOME PAGE)

22-23.+29-30.5.2021 OPEN STUDIO/ATELIER OUVERT GRAND EST

"FLUID BUDDHA", TRANSMEDIA PERFORMANCE INSTALLATION FOR "CORONA CALL" VISARTE CH, SELECTED BUT ONLY SHOWN IN STUDIO EXHIBITION, AO21 GRAND EST,(FRANCE) LIVE SOUND PERFORMANCE "UNCOPPEN SAW" WITH MANNEE (MAU), MATHIEU SYLVESTRE (F) AND ALAIN PERRET (CH)(VIDEOLINK ON HOME PAGE)

09. 11. 2019 FRIBOURG (CH)

"UNCOPPEN SAW", STUDIO RELIEF, FRIBOURG (CH): SOUND PERFORMANCE RECORDING FOR NEW ALBUM "MOÏKA" (9 PIECES) BY MANNEE (VOCALS), ALAIN PERRET (KEYBOARDS, ELECTRONICS) AND NIKUNJA (DILRUBA)

02. 11. 2019 ZURICH

"moïKA" BY "UNCOPPEN SAW": SOUND PERFORMANCE OF MANNEE (VOCALS) AND NIKUNJA (DILRUBA) IN MUSEUM CABARET VOLTAIRE FOR "THE OTHER MARIA" OF TILL VELTEN>>>>>DETAILS

02. 08. 2019 BERLIN

Experimental sound research group "UNCOPPEN SAW", WITH MATHIEU SYLVESTRE AND NIKUNJA PERFORMS AT ART-FESTIVAL "UNGEMÜTLICH VI" AT KUNST FACTORY FORUM, BERLIN

16. 07. 2019 Stuttgart

INTERACTIVE FLYING GLASS-SCULPTURE "SOOMA - SAMI", FINISHING AT VISIOTECH GMBH , STUTTGART, CREATED AS RELAY OBJECT FOR GERMANY-WIDE ENVIRONMENTAL RELAY-RUN OPENED IN AUGSBURG ON 20-06-2019 BY MRS Claudia ROTH, PRESIDENT OF GERMAN PARLIAMENT

14. 06. 2017 BERLIN

NIKUNJA'S "NAMA" (2008), PROJECTION AT PERFORMANCE ART FESTIVAL BERLIN WITH AFROTAK AND THEIR PERFORMANCE DISCOURS "REMAINS"

15. 03. 2017> 16.03.2017/ june 2017 DOHA - QATAR

"Interactive Matter: Expanded Perception Between The Analogue And The Digital" media scientific paper BY David Simon–Vermot

09. 02. 2017> 19.02.2017 BERLIN

67TH BERLINALE, International Film Festival promotion event for xanadu: THE CONTEMPORARY DREAM TEMPLE

27. 05. 2016> 11.06.2016 BASEL

THE RECONSTRUCTION OF THE TOWER OF BABEL AT PROJECTSPACE M54 BASEL, VISARTE EXPOSITION, SWITZERLAND BABEL CLIP

09. 05. 2015> 22.11.2015 VENICE, ITALY

56th BIENNALE DI ARTE DI VENEZIA 2015, COLLATERAL EVENT, DADA - LANGUAGE - PERFORMANCE "UNTITLED" FOR "SOS DADA THE WORLD IS A MESS" BY SALON SUISSE, PRO HELVETIA; curated by Juri Steiner and Stefan Zweifel at Palazzo Trevisan degli Ulivi performers: MANNEE (Mauritius/bhojburi), TAFADZWA GWETAI (Zimbabwe/Shona/Ndebele) and NIKUNJA (Switzerland/baseldytsch)

09. 05. 2015> 22.11.2015 VENICE, ITALY
26. 08. 2014> 2.09.2014 VENICE, ITALY
12. 06. 2014> 2.07.2014, ANTANARIVE, MADAGASCAR
04.11.2013 INTERNET

15. 11. 2013> 14.12.2013 TAMPON, REUNION ISLAND
01.06.2013> SAINT PAUL , REUNION ISLAND
05.01.2012> MAURITIUS

20.09.11 THRU 17.12.11>MAURITIUS

24.11.11 THRU 17.12.11> MAURITIUS
25.03.11 THRU 16.4.11> MAURITIUS
28.03.10, 2011. 2012, THEATRE VACOA, MAURITIUS>
22.05.10 IFM ROSEHILL, MAURITIUS>
31.01.09, HANGAR D2, LE PORT, LA REUNION>